A short bio by Dan Schmitt
I was born in February of 1949. My family lived on Whipple Street between Lawrence and Leland Avenues. We lived in a two-flat and I had three older brothers. Some of my memories from that time include having a duck as a pet, my brothers having garter snakes next to the garage and my oldest brother winning a black cocker spaniel. My dad worked downtown making Photostats and my mother was a housewife.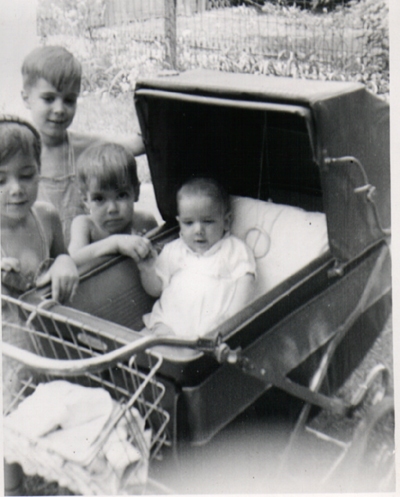 My fondest memory from this period in my life was the day my dad removed the training wheels from my two-wheeled bicycle and I went zooming down the sidewalk north towards Lawrence Avenue. I banked it into the alley behind the Packard Dealer, turned it around in the alley and zoomed back towards my dad waiting for my return. What freedom, riding a two-wheeled bicycle.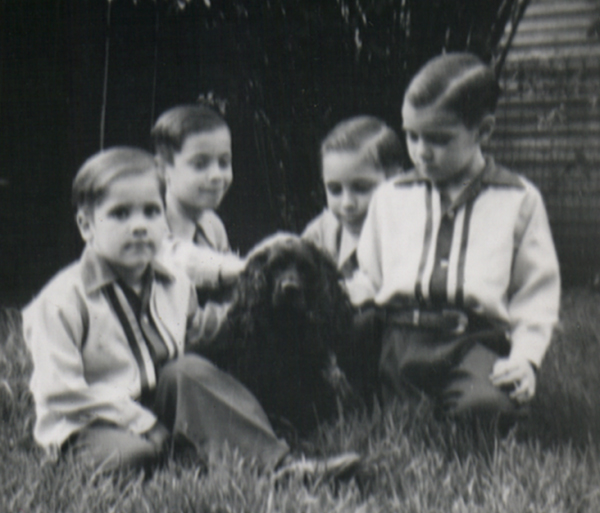 When I was five or so, the two-flat was sold, the new owners wanted to move in and we had to move. I went with my mother as she looked for another apartment. With four boys, it became difficult. Finally she found an apartment on Kedzie Avenue, above a store with three bedrooms, a living room, dining room and a large kitchen. This is where I lived until I moved out at the age of nineteen.
I started at Our Lady of Mercy Grade School in kindergarten. I remember my mother worked part-time in the cafeteria. I would wait for her and we walked home together because I was in the morning kindergarten. It was only one and one-half blocks home.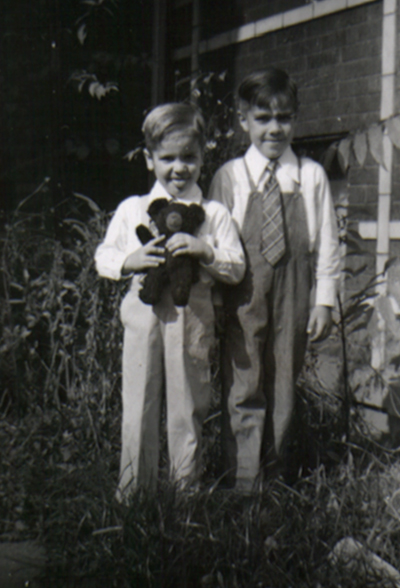 The next big thing I remember growing up on the northwest side of Chicago is the opening of Horner Park at California and Montrose Avenues. The fieldhouse was state of the art for the mid-1950ís. My brother, Mike, and I joined the first gym class they held under the direction of Al Klest. (I am not sure on the spelling.) Besides tumbling, running and general athletic activities, I learned how to work on the trampoline. In the third grade, I learned how to do a double back flip. We traveled to a competition and I won my first medal. It was for third place.
Horner Park also organized a baseball league and my brothers, Jim and Mike and myself were involved in the first teams. You have to remember, Horner Park was over eight blocks from Kedzie and Wilson, so we were walking quite a bit back then. Here is an interesting fact, Mike had an afternoon paper route covering Eastwood and Wilson. Mike carried the papers and delivered on Wilson, I carried the papers and delivered the papers on Eastwood. We went from Kedzie to Manor Avenue. We would join up at Wilson and Manor and walk to Horner Park.
All my older brothers had paper routes, morning and afternoon routes. I never got a route of my own. In the sixth grade I got my first real job. Andy, the Greek, had a grocery store on Kedzie just down the block. It was a typical store for the 1950ís. He had fresh fruits and vegetables and he displayed them on the sidewalk in front of the store. His little store was right next to the National Tea Store, so you could see the competition he had for himself. But he gave out credit and he delivered grocery to his customers. This is where I came in. He had another boy from the neighborhood working for him, George Grace. Now George was the same age as me, but because he went to Public School, he was a half of a grade ahead of me. (thatís how it was in the Chicago School System back it those days.) Business was good for Andy, so he hired another boy, me. I was paid 50 cents per hour plus tips. So if you got a quarter or a dime as a tip, that was great. My first weekís paycheck was for $7.00.
At Our Lady of Mercy, I was an altar boy under the direction of Father McHugh. He was very strict and wanted all of us to grow up and become good citizens. He was difficult, but the majority of the alter boys at OLM went on to be successful. Of all the teachers I had, Miss Mary Ann is still my favorite. I had her in the sixth grade and she encouraged me to work with my artistic talents.
At Horner Park during these later years in grade school, I played basketball in the Kiwanis League on weekend. This is where I learned the game. This league attracted players from the entire northwest side of Chicago. I became friends with boys from different neighborhoods and schools.
I graduated in 1963 and went to St. George High School in Evanston. I followed by brothers there and all of us worked summers to pay our own tuition. It wasnít that much, but $180.00 was a great deal of money for a fourteen year old. All of my older brothers caddied at Edgewater Golf Club on Western Avenue. You got paid $1.80 for eighteen holes. If you got lucky and got a cart with two golfers, then you got $3.00. This was one of the only jobs that a fourteen year old could get. We all learned how to make money and how to save money.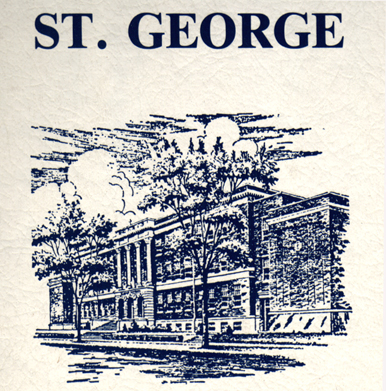 At St. George, I joined the Swim Team. I knew how to swim, but being on a team is the best way to really learn. I learned all four strokes used in competition. Here is an interesting story about that year on the swim team. We had a meet at a Chicago Park District pool at 18th Street and Damen Avenue. This could have been a multi-team meet. Besides swimming in my normal event, the 200-yard individual medley race (butterfly, backstroke, breaststroke and freestyle), my coach entered me in the frosh-soph 2000-yard freestyle race. Up in the spectators area was the Mayor of Chicago, Richard J. Daley. One of his sons was also in this 2000-yard race. All I know is this, I beat one of those Daley punks on that day.
The summer between my freshman and sophomore years, I caddied for a few weeks. I then took a job selling magazines door-to-door. This was the worst job I ever hadÖÖIt was miserable. When the summer ended, I barely had enough money saved up for my tuition. I would have to get some kind of part-time work. It was during that September of 1964 that an event happened that would change a few things in the future.
With my older brother, Bob, away at Notre Dame in South Bend, Indiana, I would borrow his Vespa scooter to take for rides around the neighborhood. On one fateful morning, I let Eddy White drive the Vespa with me on back. To get an idea of just what Eddy White may look like and his reputation around the neighborhood, just look in the Encyclopedia Britannica under juvenile delinquent and you will see his picture.
Well, his driving skills were as good has his moral code, so he crashed into a parked car as he rounded a corner. My right leg was there where the scooter hit the rear bumper of the car. When I tried to get up, my foot was still on the ground. As I looked down, I saw my bone sticking out of my leg. Fortunately for me, a woman came out of her apartment and held me on the ground until the ambulance arrived. I never got her name, but I did try to locate her months later. Even today, I am grateful for her help.
Off I went to Swedish Covenant Hospital at California and Foster Avenues. I was in the hospital for three weeks. If I remember properly, my doctor was Doctor Millar. I also remember a very lovely nurse. Her name was Cindy Webb. The reason that I remember her name is because she told me that her uncle was Jack Webb from the TV series, DragnetÖ..
At the end of this three-week stay in the hospital, the bill for all the extras was $150.00. My dadís insurance paid for the broken leg. I vowed to pay my dad back for the expenses that I caused. It was some time during my sophomore year, that my mother saw a sign in a store window at Kimball and Montrose Avenues. Help Wanted!!! So I applied at Georgesonís Catering. This business made sandwiches for the seven or so catering trucks. My first jobs included helping to make sandwiches, mopping the floors, washing the pot and pans, washing the trucks and just about any other job. My pay was $1.25 per hour.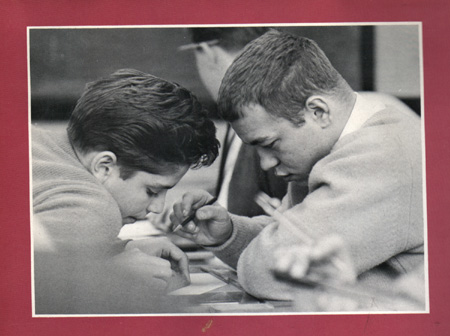 TO BE CONTINUED:
MORE HIGH SCHOOL AT ST. GEORGE
COLLEGE, THE DRAFT, and the BIRTH OF MY DAUGHTER.
DANíS COFFEE CUP
Team Chicago